"Deceiver" is a song included on the album Archangel. This is one of the fastest tracks of the album. "Deceiver" is practically like the heavier version of "We Sold Our Souls to Metal". There is slight melodic vocals during breakneck pace.
From your mouth shit comes out
I know what you're all about
Spreading lies and misery
Why don't you face reality

Deceiver - Spawn the bastard
Deceiver - Your grotesque existence
Deceiver - I vomit on you
Deceiver - I curse your soul

With this dagger, I kill the leper
Accuser of all, I the rapture
Come back from the dead to fuck with me again
Sucking my bloody veins, your shame has no end

Deceiver - Your filthy corruption
Deceiver - Your mental abortion
Deceiver - Your terminal cancer
Deceiver - A slave to your master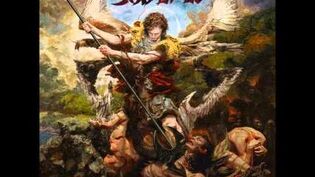 Personnel
Edit
Performers
Songwriter
Enginucers
Live-only songs on various albums
Community content is available under
CC-BY-SA
unless otherwise noted.