"Defeat U" is a song included on the album Prophecy. It's a short song with fast riffing. Three members sing this song — Max Cavalera and his friend Danny Marianino on additional vocals, and guest Mark Pringle on backing vocals. They sing about acting cowardly to defend themself while defeating someone. Because of that story, "Defeat U" has the hidden message "Be honest to death."
When Max texted to co-writer Danny about the title he came up, he texted as 'defeat u' instead of 'defeat you' since typing 'u' is faster than 'you' and is the text abbreviation of 'you', that's where he went with the text and promptly replaced 'you's following 'defeat' in the lyrics with 'U'.
So you say that doesn't interfere
And you don't care what happens here
But now I know what's your inner fear
'Cause what we had you were never near

My scars tell the story of destiny's deceit
I remain undisputed and blind to its defeat

It won't, won't break me
It won't defeat me
We will, will break you
We will defeat U

What doesn't kill you makes you stronger they say
I live like that in every way
Survivin' on the razor's edge
Integrity until I lay to rest

It's me who's out for blood, soon all the floodgates open
Integrity's my only friend, prepared to fight its omens

It won't, won't break me
It won't defeat me
We will, will break you
We will defeat U

Fire spreads killin' fear
Motherfucker your end is near
Can't bring me down
In a sea of shit you drown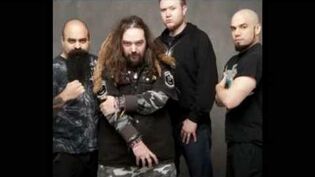 Personnel
Edit
Performers
Guest/session musicians
Songwriters
Enginucers
Live-only songs on various albums
Community content is available under
CC-BY-SA
unless otherwise noted.