"Demonized" is a song included on the album Ritual. The song has an Annihilator-resembling acoustic beginning and death metal flavored with haunting tones, black metal and a hint of post-industrial sounds reminiscent of Dark Funeral or Code Orange rolls in before slowing to the grooves (not to mention there's grooves right after the acoustic also). "Demonized" pays homage to the Slayer song "Raining Blood" in which the lyric line 'red skies, red skies' believed to produce blood rain is claimed by people under demonic possession. This song was originally going to be the intro track until Max Cavalera captured the idea of having Navajo on the title track. The reviewer of Sonic Abuse says this song "smashes the mood to pieces in a hail storm of feedback and palm-muted chords."
From the throne came flashes of lightning, rumblings, and peals of thunder.
Before the throne seven lamps were blazing. These are the seven spirits of god.

Fire born from the emptiness
Lost souls, faith relinquished

Red skies, red skies

Thunderous, thunderous
Thunderous, thunderous
Demonized

These omens, Jupiter's gaze
Visions of raising Caine
Prayers torn asunder
These hollow grounds breed murder

Drowned god, drowned god

Thunderous, thunderous
Thunderous, thunderous
Demonized

Are you judging my morals and my lack of faith?
Intolerance of nothing that is sacrosanct
Disgracing the arrogant
I'll craft my throne from pestilence
Malevolent, you're nothing
You're all dead to me... dead!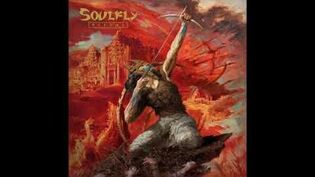 Personnel
Edit
Performers
Songwriter
Enginucers
Nick Rowes – engineering, programming
Josh Brooks – engineering
Lana Migliore – assistant engineering
Jeff Sinclair – assistant engineering
Kyle McAulay – assistant engineering
Live-only songs on various albums
Community content is available under
CC-BY-SA
unless otherwise noted.