"Feedback!" is a song included on the album Ritual. This is a punk and speed metal thrasher very much like Motörhead, making fans to think that this might be a Motörhead cover, but it isn't. According to Max Cavalera's interview on Ultimate-Guitar, this song resembles the sounds commonly heard on Motörhead albums Ace of Spades and Iron Fist mixed with the band High on Fire and ends with the New York hardcore sound like Cro-Mags.
"Feedback!", featuring Max's son Igor Jr., is about Max's life on the road and tributes to late Motörhead singer Lemmy Kilmister. This song is named after that common technic effect when Max plays his rhythm guitar.
Vanishing point of the black top
Shithole venue smells like rot
A thousand nights I left behind
Another tribe, another time

Feedback, feedback
Um, dois, três, quatro
Not a fucking regret

A brotherhood at stage right
A circle pit night after night
A congregation packed full of sinners
Another road, another winter

Feedback, feedback
Um, dois, três, quatro
Not a fucking regret

Broken bottles thrown in a fight
Cannot move, sold out tonight
Stage dive, no fucking glamour
Tonight's show, it's all that matters

Feedback, feedback
Not a fucking regret
Not a fucking regret

Many were cursed and many alive
Carry a torch for those who have died
Carve your skin, a mosaic forever
Never say die, never say never
Never say never

No regret
No no, no no, no no... no regret
No no, no no, no no... never say never!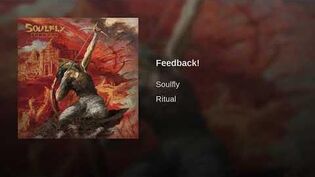 Personnel
Edit
Performers
Guest
Songwriter
Enginucers
Nick Rowes – engineering, programming
Josh Brooks – engineering
Lana Migliore – assistant engineering
Jeff Sinclair – assistant engineering
Kyle McAulay – assistant engineering
Live-only songs on various albums
Community content is available under
CC-BY-SA
unless otherwise noted.