"Ishtar Rising" is a song included on the album Archangel. It is a short, slow track but ends on a fast note. The musical direction of "Ishtar Rising" is similar to that of Black Sabbath featuring double bass. Hence its title, this song is about Ishtar, Babylonian goddess of fertility, love, war and sex, descending into Hell. The idea for this song was inspired by Middle Eastern bands that Max Cavalera listens to, such as Melechesh where he collaborated on their song "Lost Tribes".
By ancient decree
I call upon thee
From the heavens
Asu - Shunamir
Ereshkigal, Queen of Hell
The seven gates of Namtar fell

Ishtar rising, Adonai... Ishtar
Ishtar rising, Adonai...

I the Equinox
The ancient law
The dead will rise up
The dead will come
Inhaling the incense of deity
Woe to Babylon
Woe to thee...

Ishtar
Ishtar rising
Ishtar
Ishtar rising, Adonai...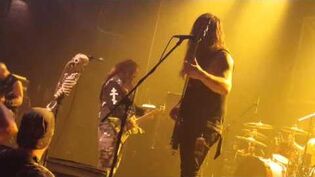 Personnel
Edit
Performers
Songwriter
Enginucers
Live-only songs on various albums
Community content is available under
CC-BY-SA
unless otherwise noted.