"Salmo-91" is a bonus track of the album Dark Ages. It follows the instrumental track "Soulfly V" on digipak and Japanese editions of this album. The musical characteristics are unique for Soulfly as it is regarded trance with prominence of microKORG synthesizer resembling that of Divination's song "Delta" in rhythm and sound. The lyrics are taken directly from the worship song Psalm 91 and translated to Portuguese and sung by pastor Andrew Cunningham in Southgate Church in Phoenix, AZ, a 30-minute drive from the Saltmine Studio in Mesa.
Voce que abita com o amparo do altissimo
E vive a sombra do onipotente, diga a jave
"meu refugio, minha fortaleza, meu deus, eu confio em ti!"

Ele livrara voce do laco do cacador, e da peste destruidora
Ele o cobrira com suas penas, e debaixo de suas asas voce
Se refugiara. o braco dele e escudo e armadura

Voce nao temera o terror da noite, nem a flecha
Que voa de dia, nem a epidemia que caminha nas trevas
Nem a peste que devasta ao meio-dia. caiam mil
Ao seu lado e dez mil a sua direita, a voce nada atingira

Basta que olhe com seus proprios olhos
Para ver o salario dos injustos, porque voce fez de jave
O seu refugio e tomou o altissimo como seu defensor

A desgraca jamais o atingira, e praga nenhuma vai chegar
a sua tenda, pois ele ordenou aos seus anjos que guardem
Voce em seus caminhos. eles o levarao nas maos
Para que seu pe nao tropece numa pedra. voce caminhara
Sobre cobras e viboras, e pisara leoes e dragoes

"eu o livrarei, porque a mim se apegou. eu o protegerei
Pois conhece o meu nome. ele me invocara
E eu responderei. na angustia estarei com ele
Eu o livrarei e glorificarei. vou sacia-lo de longos dias
E lhe farei ver a minha salvacao"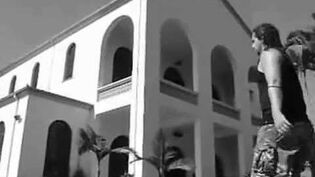 Personnel
Edit
Performers
Session musicians
Songwriter
Enginucers
John Gray – engineering, recording, digital editing, mixing
Milan "Bare" Barković – additional recording engineering
Alexkid – additional recording engineering
Darya Jubenko – additional recording engineering
John Bilberry – assistant engineering
Matt Marksbary – assistant engineering
Justin Salter – assistant engineering
June Murakawa – assistant mixing
Live-only songs on various albums
Community content is available under
CC-BY-SA
unless otherwise noted.