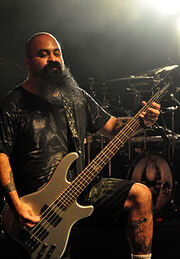 Tony Campos (born March 8, 1973) is a former Soulfly bassist who is now with Fear Factory. He joined Soulfly in 2011, replacing Johny Chow, who was filling in after Bobby Burns departed. Although he's a bassist, Campos helped Max Cavalera write and sing three songs together — "Plata O Plomo", "El Comegente" and "Acosador Nocturno"; he sung in Spanish in all three. Campos left Soulfly in first of May 2015 after being a credited member of the three latest albums Enslaved, Savages and Archangel, which was released more than three months after he left.
As a background information, Campos was the constant member of Static-X along with frontman Wayne Static who is now deceased. He joined the death metal band Possessed in the same year he joined Soulfly. He also contributed bass for the last two Ministry albums Relapse and From Beer to Eternity, which were released in the same year as Soulfly albums Enslaved and Savages, respectively.
Community content is available under
CC-BY-SA
unless otherwise noted.