"Unleash" is a song included on the album Conquer. It is the first of two singles released from Conquer, the second was the previous track "Blood Fire War Hate". "Unleash" is hencely about unleashing war multiple times to make the war progressively more devastating. This song utilises breakdowns, with light, spacey experimental section in the middle of the track, sandwiched between Pantera-like metal riffs. The song begins with inhuman howl and is repeated numerous times in this track.
Max Cavalera quoted on the Roadrunner website about his appreciation with Dave Peters, "To work with David was a trip. The song's a full assault, and it feels really natural. It's got that uncompromising attitude." He also had wishful thoughts about this song, "It's the closest thing I've done to Pantera. Dave put some killer lyrics to the music. The fast part at the end is my favorite part on the album."
This song was initially going to be called "Wall of Death" after Cavalera and Peters write lyrics for this one, and then Max changed it to "Unleash" and rewrote the lyrics.
War after war
the lion roar
Hell after hell
Cambodian death bells

Scum after scum
they blot out the sun
Hill after hills
in the killing fields

No more fear of failure
No more suffering
No more lies, I will arise
From blood-filled rivers of my enemies

Unleash war
Unleash my wrath
Unleash revenge
Unleash my hell

Pig after pig
the blood runs cold
Stone after stone
the kingdom comes

Doom after doom
the fallen ruins
Hate after hate
there's no escape

Unleash war
Unleash my wrath
Unleash revenge
Unleash my hell

No more scars of judgement
No more tolerance
No more compromise,
I stand baptized in fire

Unleashing my revenge
Unleash war
Unleash my wrath
Unleash revenge
Unleash my hell

Fucked up, you never ever learn
I've reached the point of no return
No I can't take it anymore
You're borrowing the blood I earned
From onslaught to oblivion
You're never taking me alive

Victimized, brutalized, terrorized, crucified,
Crucified… In the heavy side of life we live
It's not how we chose, but it is how it fucking is

Unleash! Unleash! Unleash! Unleash!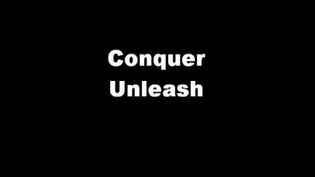 Personnel
Edit
Performers
Guest
Songwriters
Enginucers
Live-only songs on various albums
Community content is available under
CC-BY-SA
unless otherwise noted.