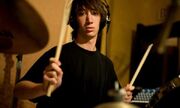 Zyon Cavalera (born January 19, 1993) is the current Soulfly drummer and Max Cavalera's son, who replaced the departing David Kinkade in October 2012. He was the main member of the latest two albums, Savages and Archangel. He also appeared as a guest drummer in "Revengeance" on Enslaved, and in Sepultura cover of "Refuse/Resist" on Omen. Zyon even made several appearances in early Soulfly albums as a little boy. He chanted a phrase "You Think You All Good" on "Bumbklaatt" in the debut album, performed foosball sampler on "Mulambo" in the second album, and sang the Pledge of Allegiance along with several others on "One Nation" in the third album.
As a background information, he and his brother Igor formed the band Lody Kong in 2011 as well as Mold Breaker in 2010.
Community content is available under
CC-BY-SA
unless otherwise noted.